Working and retiring in Alexandria: A dream come true for Julie Critz
As the former superintendent of Alexandria schools, Julie Critz has spent a lot of time talking to people about why Alexandria, Minnesota, is an amazing place to raise kids. (The schools!)
She's not as used to talking about why it's a great place to retire but, as a recent retiree, she's getting used to it.
Living in the Alexandria area was always her dream.
"My grandparents had a place on Maple Lake, and since the time I was one year old, I've come to Maple Lake every summer of my life. I decided when I was young that I wanted to live in this area — I wanted to live on the lake and not visit the lake. So it was always a goal."
Twenty years ago, two of her dreams came true at once, when she moved to Alexandria to be an elementary principal.
"Being an elementary principal was always my dream," says Julie. "I had been an elementary teacher and I decided I wanted to go into administration. I really wanted to be with elementary kids and staff — so I was super excited about getting an elementary principal job in Alexandria."
Eventually, she was named the superintendent of schools in Alexandria, and she walked the district through significant upgrades, including the early years of the revamped Alexandria Area High School.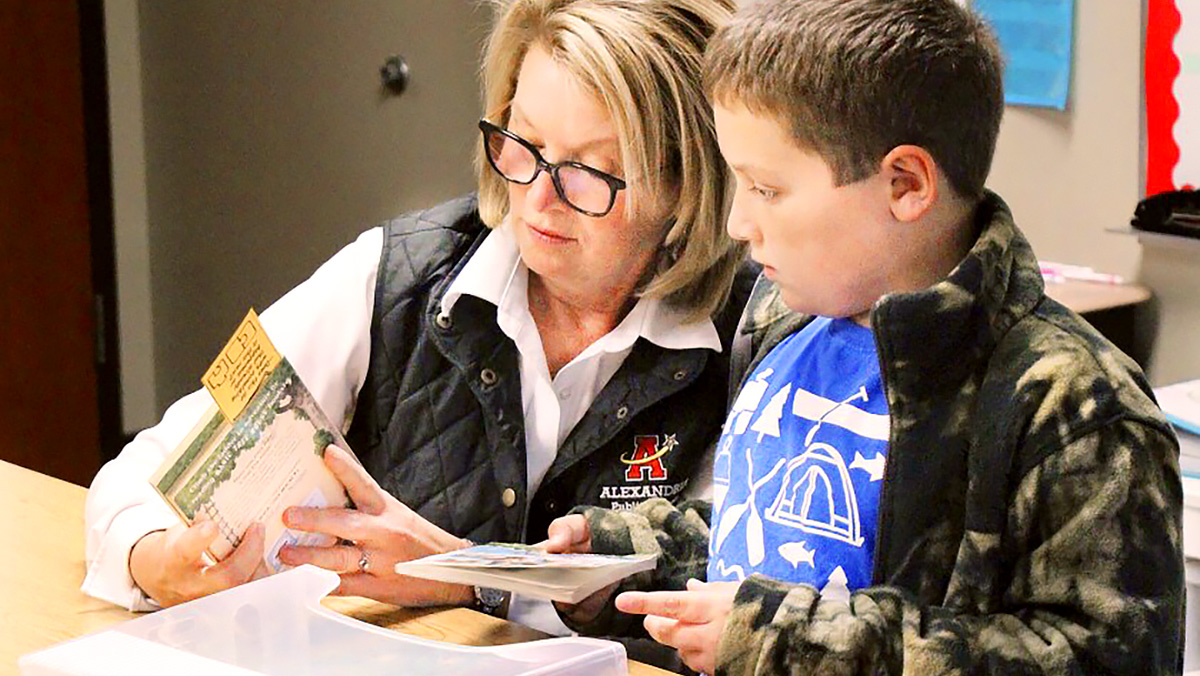 Changing the pace of life
When Julie announced her retirement in 2019, many people were surprised, but Julie knew it was time for a new chapter.
"It wasn't about not ever working again," she says. "It was about finding a different pace, slowing my life down a little bit, trying to prioritize what was most important to me."
Spending more time with her aging parents and having time to help others in ways she couldn't while she was working full-time were at the top of her list.
Plans took a turn
As it turns out, Julie was the one who needed help when, a few months into a part-time position in the Clinton Graceville Beardsley School District, as interim superintendent, she tripped over a student and broke both wrists. For months, she had both arms in casts and required 24/7 help from family and friends to type, drive, and navigate her days.
Still, Julie continued her temporary role and continued doing consulting work as one of the partners with True North Consulting Partners. Today she's cast-free and ready for more.
The beauty of being retired here
While Julie continues her consulting work, she says she's ready to enjoy more of what Alexandria has to offer, and she's grateful to live in an area with so many options.
"I think Alexandria is rich with opportunities for people of all ages and, as I am discovering, equally so for people in retirement! We couldn't ask for a more perfect place to retire."
Julie Critz
"I love the things that are available in this town," she says. Among other things, she's looking forward to enjoying Alexandria's bike trails, workout opportunities, and pickleball courts.
Julie says her injury changed how she thought retirement would look but it also clearly demonstrated how grateful she is to have supportive people in her life.
"My family and friends have been generous and accommodating beyond what I could ever have imagined," she says. "This is one amazing community. The decision to stay in Alexandria during retirement is affirmed every day with the generosity of this community, the many opportunities that are available for retirees, and the beautiful location."