This is the high school you wish you had.
If you'd asked Gabe Hoven in middle school, he'd have told you he was "dead set" on becoming a doctor, but now, as a senior, he's looking forward to law school.
What inspired this shift? A teenage whim? Hardly. After a year or two of healthcare career classes at his high school, with real-world exposure to the medical field, he says: "I just realized that it really just wasn't my thing. I didn't enjoy it." Meanwhile, he'd taken an elective called Citizens Academy, where he learned the U.S. court system, visited a courtroom, and participated in a mock trial.
"I really, really enjoyed that class," he says. "I enjoyed it so much that I thought 'I could definitely see myself doing this in the future.'"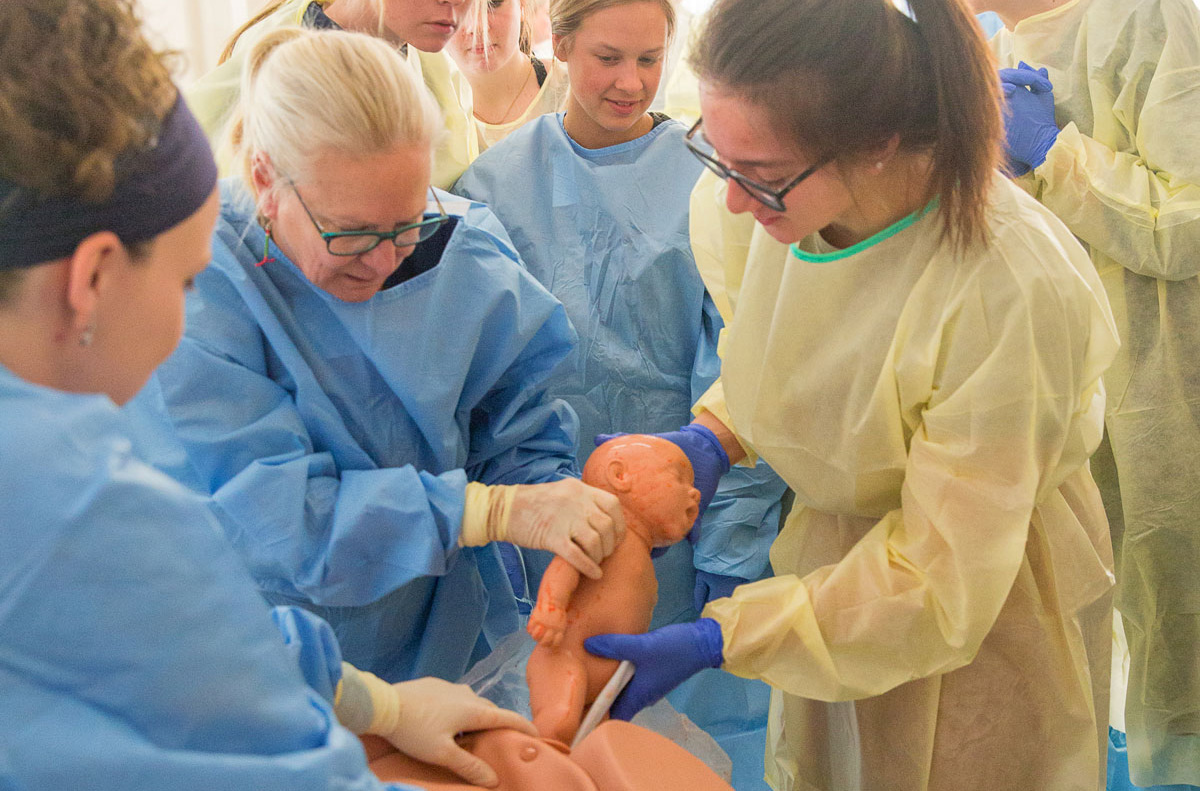 Not your average high school experience
High school experiences like Gabe's aren't typical, but they're standard at Alexandria Area High School (AAHS). This bright, modern school in rural Minnesota has become a model that educators from around the country are watching closely.
"We focus on creating authentic opportunities for students — so they can experience how what they're learning is applied in authentic, real-life situations," says Claire Anderson, who oversees this unique program, which is called The Academies.
An innovative education — from the ground up
The school's commitment to real-world experiences is more than surface deep. The entire building was built to support this approach, with a design that feels more like a corporate campus than a school, filled with windows, light, and collaborative spaces. There's specialized equipment for a range of career fields, and the classrooms are regularly filled with local physicians, manufacturers, business leaders, and other professionals.
"It's really amazing what you can do here."
As an example of this, Claire explains: "Our Industrial Tech teachers — they're very skilled in teaching industrial technology, small engines, those sorts of things, but when it comes to experiences for kids who might want to become a service technician, we know we have people in our community where that's more in their wheelhouse. If we can tap into them and use them as a resource, that's awesome."
And, in Alexandria, they can. The school has unprecedented support. "There's just a genuine desire to support the youth of our community," says Claire.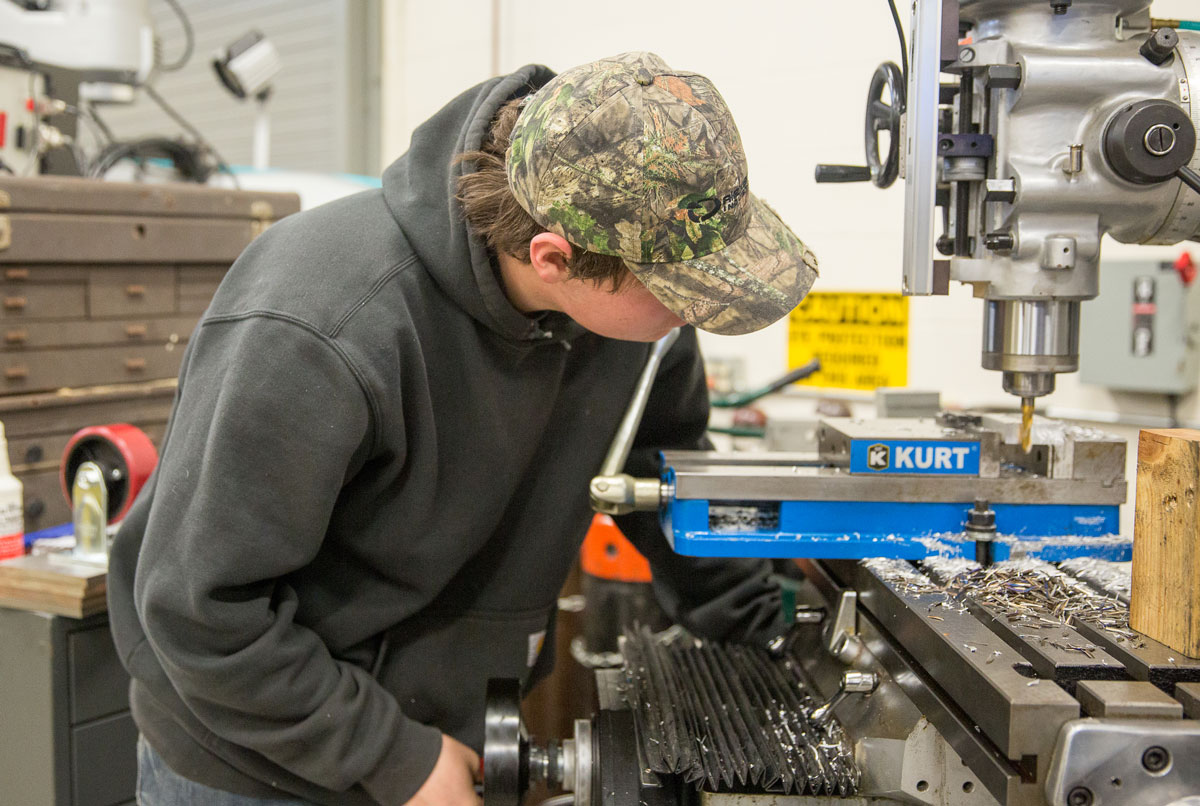 Designed for success
The Academy experience starts freshman year, with broad exposure to a range of career fields. By spring, each student chooses one of three paths they'll focus on for the rest of high school:
The Engineering, Manufacturing Technologies & Natural Resources Academy
The Business, Communications & Entrepreneurship Academy (which includes the arts)
The Health Sciences & Human Services Academy
These choices aren't set in stone. Students can shift from one Academy to another as they go, and they can take classes across Academies.
"We're really trying to get every student to find out what they're passionate about," says principal Chad Duwenhoegger. "The approach is, 'What are they telling us? What do they love to do?' And then it's our job to help give them the skills and the opportunities to build upon that and get to where they want to be in life."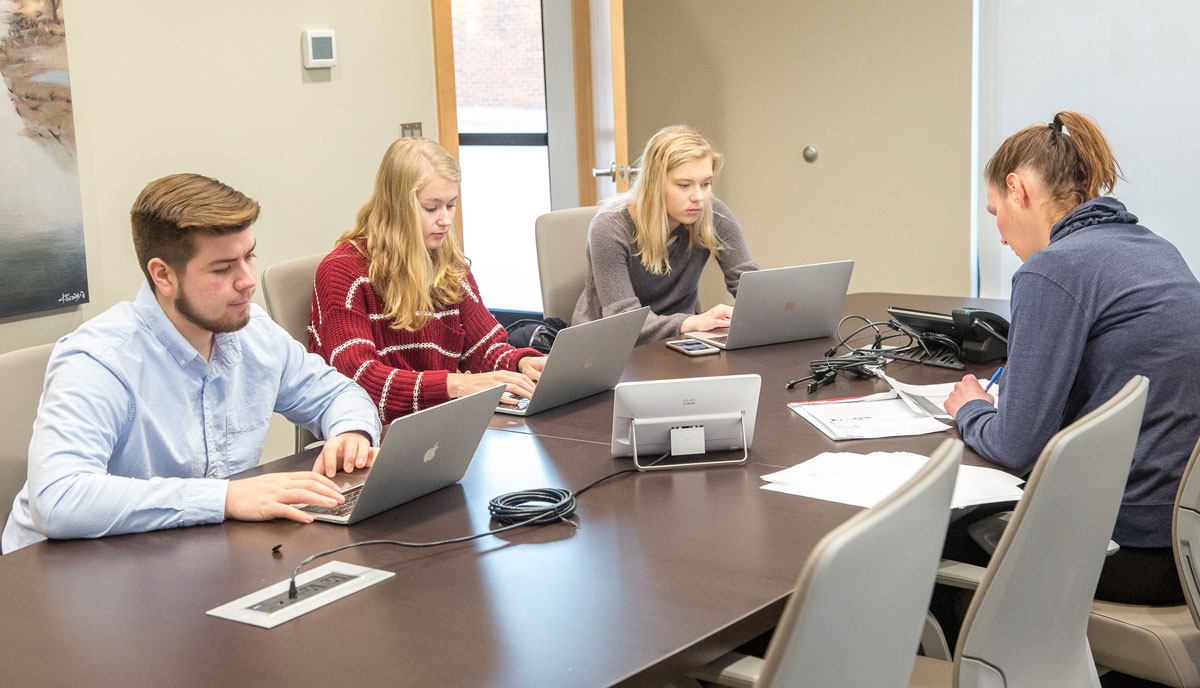 Internships, scholarships, and more
Seniors top off their education with projects and internships that rival college experiences. Students in the Business Academy do real-world projects for businesses in town, culminating with a Shark Tank-like competition and thousands of dollars in scholarships. Education students teach lessons in actual classrooms. Healthcare students do birthing, casting, and intubation simulations with the local hospital. Manufacturing students do hands-on projects with local manufacturers.
"We also offer career internships," says Principal Duwenhoegger, "so if a student is really set that this is what they want to do, they could spend half a day every other day in that career for the whole second semester."
The opportunities at AAHS are comparable to what most kids experience in college, when thousands of dollars are at stake.
The payoff is real
"I've noticed that the school gives me so many opportunities," says Grace Wink, a senior in the Business, Communications, and Entrepreneurship Academy. "I know not a lot of other schools do that."
Eric Reineke, a senior in the Health Sciences & Human Services Academy, says the format helps him stay engaged. "When you leave the classroom, and you go and do hands-on things, it can get really fun and you can be more excited about learning."
Hearing that from students keeps Claire passionate about building the Academies, as well as her own two children, both recent graduates. "I look at them, and they're going off to college, and they feel secure in what they've decided to do," she says. "I think when you get to see the impact on students, that's the most exciting thing."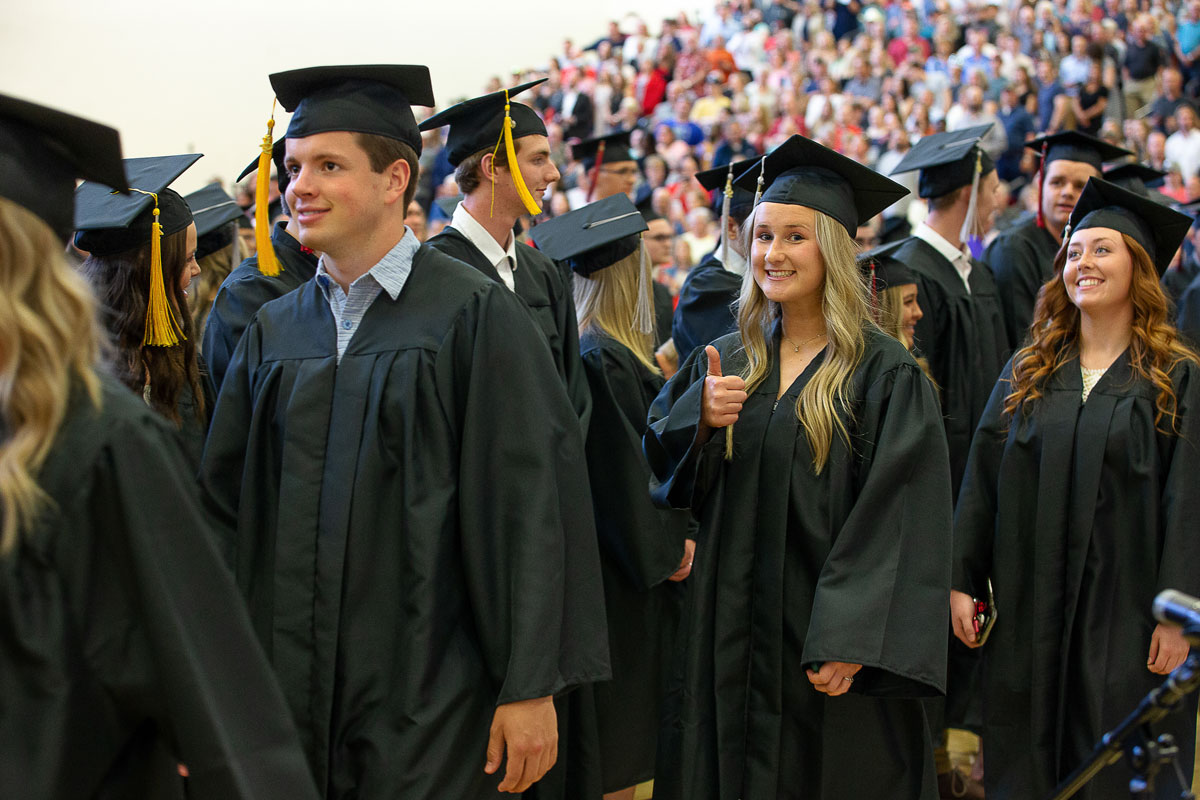 As an Academy Ambassador, Grace gives tours of the high school to educators from around the country and interested families. She says, "The opportunities you have here are almost endless — and you have a lot of support from teachers and counselors and just different people throughout the community. It's definitely a special high school experience."
Gabe agrees: "It's really amazing what you can do here."