This Non-profit is Helping the Community One Car at a Time
The Car Care Program is an Alexandria area non-profit that fixes cars for free & donates safe and reliable vehicles to people in the community.
Innovative Car Care program supports the workforce — and brightens futures — in Alexandria
After a local bank teller hit two different deer a few weeks apart, she was left without a vehicle to get her to and from work. Her manager at Glenwood State Bank phoned up Kris Chisholm, executive director of the Car Care Program, one of the most innovative organizations in the state of Minnesota.
Our teller needs a car, and we need our teller, they told Kris. Could he help? "Have her complete our application as quickly as she can," said Chisolm. Within days, the teller was back to work driving a 2002 Ford Windstar that had been gifted to her by the Car Care Program. It was a win for her, the bank, and the entire community.
"When we keep people working, we keep everything going strong," says Chisholm.
"We know that transportation can be an issue in greater Minnesota. We don't have the public transportation that larger communities have."
Nicole Fernholz
Director at Alexandria Area Economic Development Commission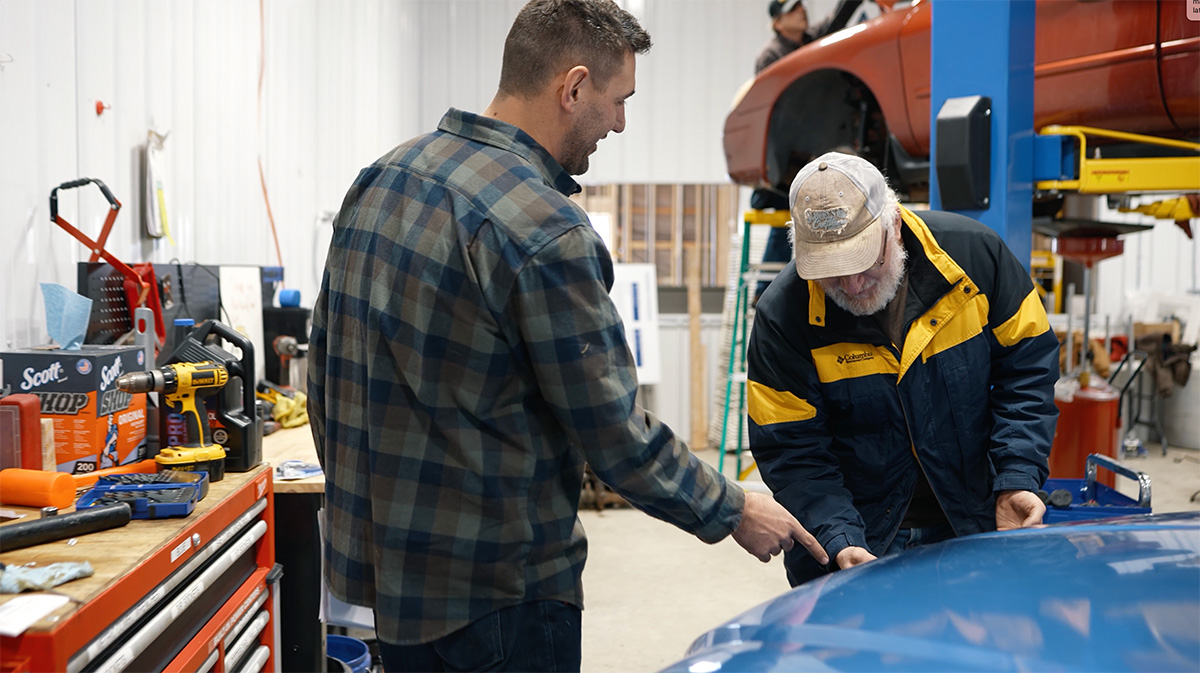 Helping the economy by helping people
Many things about the Alexandria area stand out as unique — the tight-knit community, the thriving businesses, the career opportunities. The Car Care Program brings together many of those things.
For starters, Car Care Program supports people when they need it most. Being without a vehicle in rural areas like Douglas and Polk counties can be devastating. If your vehicle breaks down, so can your opportunities.
A valuable resource for employers
The flip side to helping people stay in jobs is that the Car Care Program is also helping employers attract and retain employees. Businesses in the Alexandria area call Car Care when their employees are struggling with transportation—and Car Care helps hundreds of them every year.
The success stories go on and on:
A longtime Walmart employee survived a devastating crash with his kids and wife that destroyed his vehicle a week before Christmas. By Christmas Eve, Car Care had provided him with a replacement van so he could continue to support his family, and his employer.
A 21-year-old single mom was driving a battered 20-year-old Chevy Aveo that was falling apart around her and her infant son. The Car Care Program presented her with a safe, working 2008 Dodge the very morning she was scheduled to start her new job as a CNA at Knute Nelson Care Center.
The Car Care Program provides a free vehicle or free car repairs to dozens of local employees every year. Each donated vehicle helps a local employee and keeps a community business going strong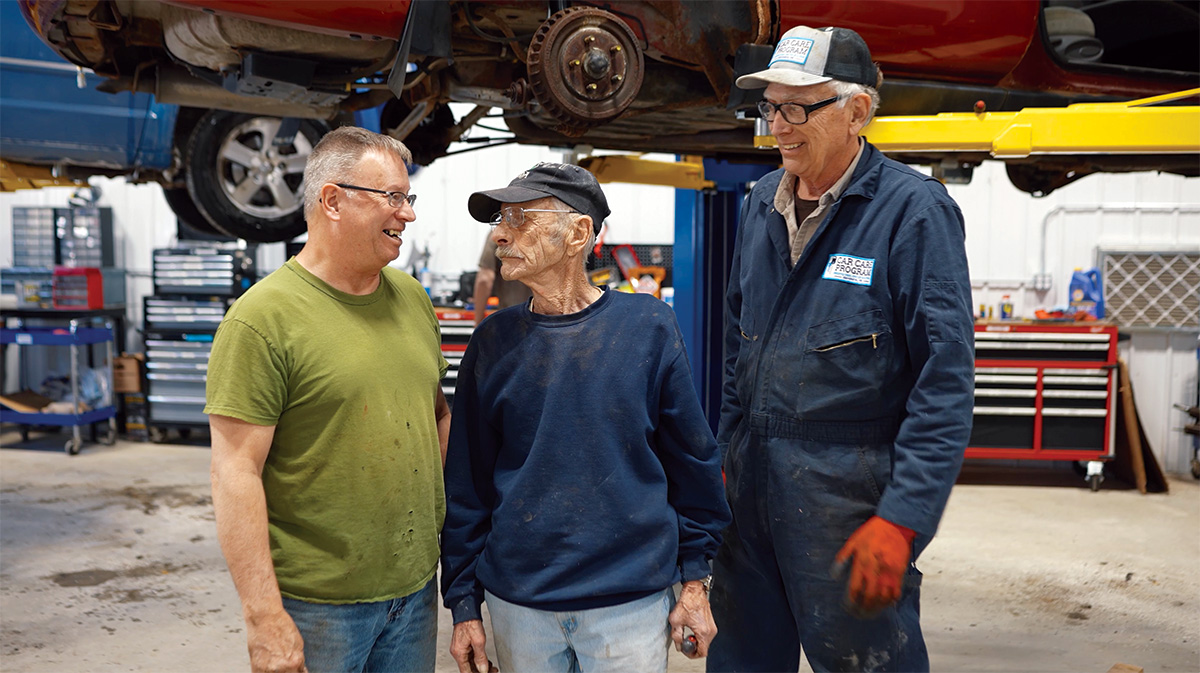 The magic of the Spark Plug Gang
There are very few communities in Minnesota with a program like Car Care, and one of the reasons it's been so successful in the Alexandria area is because the local community is so committed to serving and volunteering.
Every vehicle Car Care provides has been donated by local residents and is repaired by volunteers. The team of volunteers who work on these cars — dubbed the Spark Plug Gang — consists of retired local professionals, most of whom knew nothing about cars before showing up to help.
Under the mentorship of a skilled mechanic, these volunteers replace brakes, install spark plugs, fix engines, and perform hours of repair work for free. They show up every week, chat over coffee and donuts, and get to work. Most of them never miss a week. Their mechanic jackets hang proudly in the shop, labeled with their names.
"I didn't know a piston from a carburetor," says Lawrence Keenan, who retired in December 2020 and started volunteering a few months later, "but I thought, 'Well, these guys, they like to drink coffee, they like to have a cookie, and when you tell a joke, they're from the same era—they understand the jokes—so we all laugh a lot."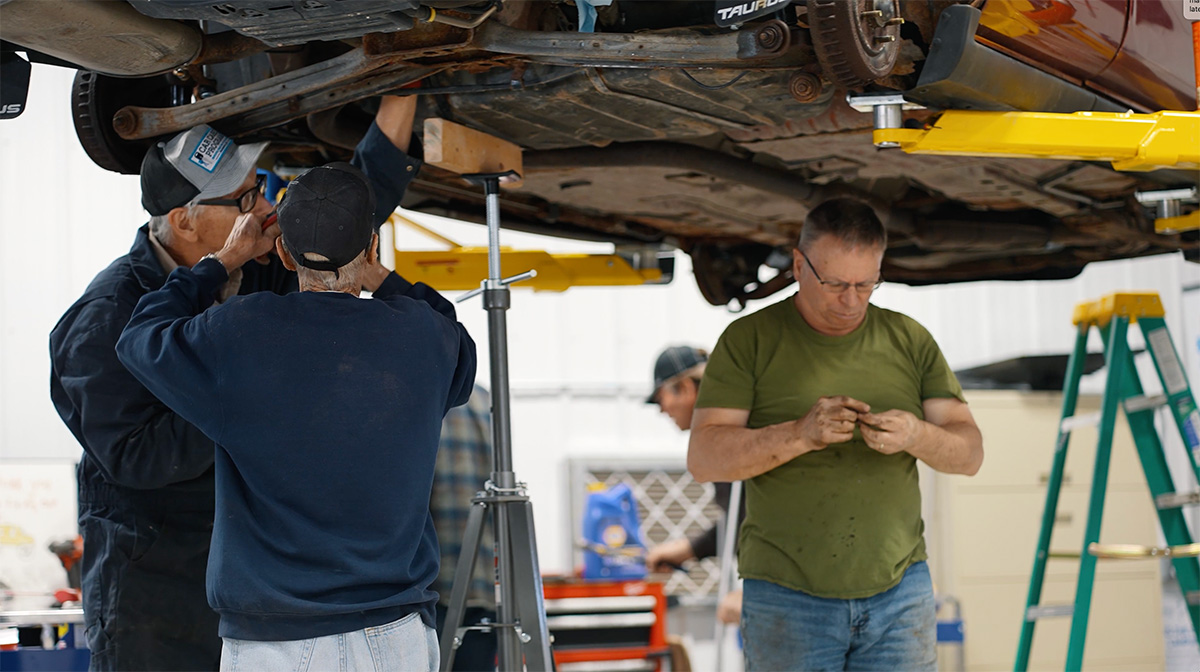 Keenan says hearing how much the cars mean to local recipients is incredibly meaningful.
"What a blessing," says Chisholm. "The reality is for us to fix a car is, on average, we put about five to six hundred bucks back into a car—labor free, because of our amazing volunteers. And so now we've got that car fixed for under $1,000, and we're putting it back on the road."
A smart investment in the local economy
The impact the Car Care Program has on the Alexandria community and the surrounding areas is so significant that when Fernholz heard about it, she helped secure funding from the AADEC board to support their work.
"When Kris and I first met, we were trying to figure out ways that we could partner with one another that was unique—and do something that hadn't been done before," says Fernholz.
Now AAEDC donates $1000 to the Car Care Program for every employee they help to get a job or keep a job through a donated car.
"One of the largest challenges we have in Douglas County is a workforce issue," says Fernholz. "We just don't have the people to fill the positions. So this is a way to get people who can't get to their jobs a solution to continue to be in the workforce."
The difference Car Care is making has been felt by residents, businesses, and volunteers throughout the entire area.
"That's one thing we love so much about Alexandria—is just that community feeling. You don't find it anywhere else in the state of Minnesota," says Chisholm. "It's a special place to make your mark."
Interested in helping Car Care with their mission? There are multiple ways to contribute, including donating one of your vehicles. Learn more about donating here.